Bad Bunny is a rapper and vocalist from Puerto Rico. His music contains several additional aspects from other genres. However, it is primarily classified as Latin trap and reggaeton. Benito Antonio Martnez Ocasio is his complete name. With the release of his song "Diles" in 2016, he gained notoriety and signed a contract with Hear This Music.
Bad Bunny Biography/Wiki:
Throughout the following few years, he built his fan base with songs like "Soy Peor" and collaborations with Karol G, Ozuna, Farruko, J Balvin, and others. His biggest break came in 2018 with his appearances on Cardi B's hit single "I Like It" with J Balvin and his top 10 song "Mia" with Drake.
His debut album, X 100pre, was published by Rimas Entertainment in December 2018 and peaked at number 11 on the US Billboard 200. Then, in June 2019, he and J Balvin released their joint album Oasis, which peaked at number nine on the Billboard 200.
The second album by Bunny, YHLQMDLG, debuted on February 29, 2020, and peaked at number two on the Billboard 200, making it the highest charting all-Spanish album ever. The compilation album Las que no iban a salir, released in May, came after it and peaked at number seven on the charts.
Bunny's fourth album, El ltimo Tour Del Mundo, which combines his reggaeton and Latin trap sound with rock music, was released in November 2020. With its lead single, "Dákiti," debuting in the top 10 of the US Billboard Hot 100, the album became the first entirely in the Spanish language to top the Billboard 200 chart. Un Verano Sin Ti, his fifth studio album, was released in May 2022 and lasted 13 weeks at the top of the Billboard 200. Four of the album's singles also reached the top ten of the Billboard Hot 100.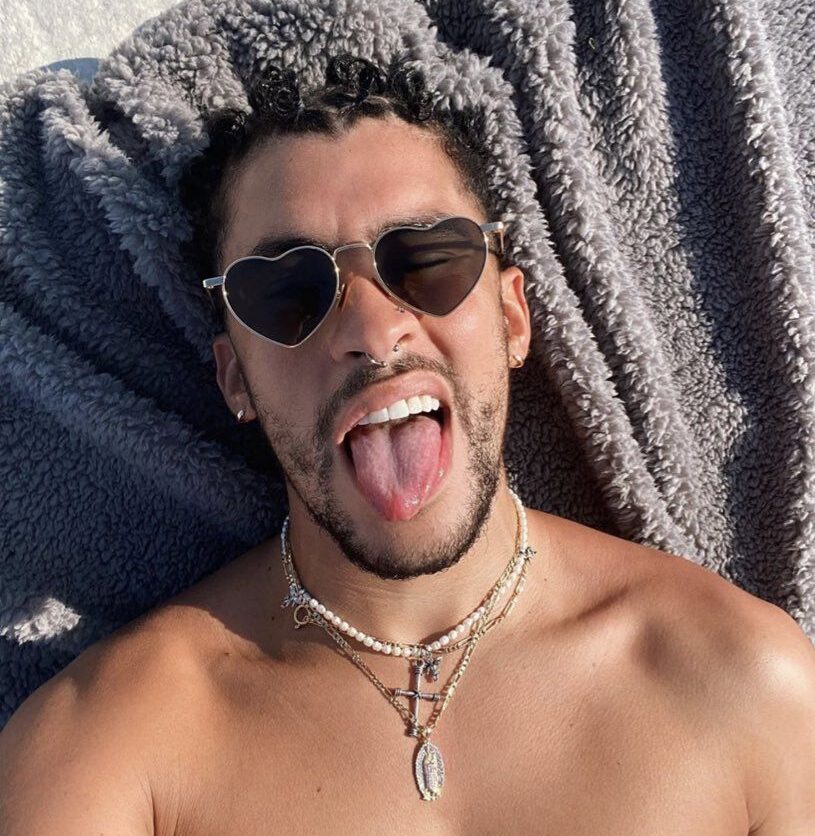 Bad Bunny Age:
As of 2023, Bunny is 29 years old.
Bunny's date of birth:
Bunny was born on March 10, 1994.
Zodiac Sign:
The birth sign of Bunny is Pisces.
Where was Bunny born?
Bunny was born and raised in Almirante Sur, Vega Baja, Puerto Rico.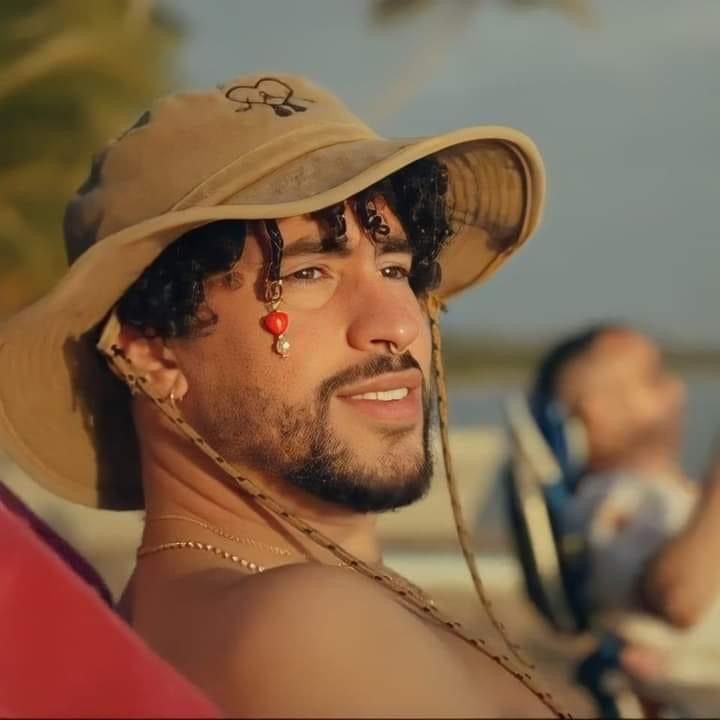 Bad Bunny Height and Weight:
How tall is Bunny?
Bunny stands about 6 feet tall and weighs 75 kg.
Bunny Debut and Songs:
At the age of 14, he began to compose and produce his own interpretations. In 2013, he started to distribute his songs through SoundCloud, including "Get" in 2013, "Tentación" in 2014, and "Just let me know" in 2015. DJ Luian from SoundCloud heard his song "Diles" in 2016 and signed him to his record label, Hear This Music. On the Hot Latin Songs chart, his track "Soy Peor" peaked at number 19.
The song "Ahora Me Llama" by Bunny and Karol G, released in May 2017, peaked at number 10 on the Billboard Hot Latin Songs chart. One of the top Latin songs of 2017, according to "Alt.Latino's Favorites: The Songs of 2017"
Bunny inked a booking agreement with Cardenas Marketing Network (CMN) for a number of Latin American nations in the summer of 2017. Bunny hosted Trap Kingz, Beats 1's first Spanish-language program, which debuted in November 2017. On the Hot Latin Songs list, the "Te Boté" remix featuring Ozuna and Nicky Jam peaked at number one.
X 100pre and Oasis:
On December 24, 2018, Christmas Eve, Bunny launched his debut album X 100pre via Rimas Entertainment. X 100pre has an overall Metacritic score of 84 based on five reviews. Bunny's "off-kilter creativity" was complimented by Alexis Petridis of The Guardian. In Rolling Stone's 500 Greatest Albums of All Time poll in 2020, X 100pre received a 447th place vote.
Bunny and J Balvin collaborated on the eight-song album Oasis, released on June 28, 2019. The album topped the Billboard US Latin Albums list and peaked at number nine on the Billboard Hot 100. He participated in anti-governor Ricardo Rosselló demonstrations in July 2019. During the demonstrations, Bunny and Residente released "Afilando Los Cuchillos" ("Sharpening the knives").
Music Style:
Latin trap and reggaeton are regarded to be Bunny's main musical genres. According to a Rolling Stone article, Bunny uses a "conversational tone" while rapping and singing. He uses "a low, slurry tone, viscous melodies, and a rapper's cadence." Over the years, Bunny has cited a range of performers from many genres as influences, including Héctor Lavoe, Vico C, Romeo Santos, Juan Luis Guerra, and Elvis Crespo.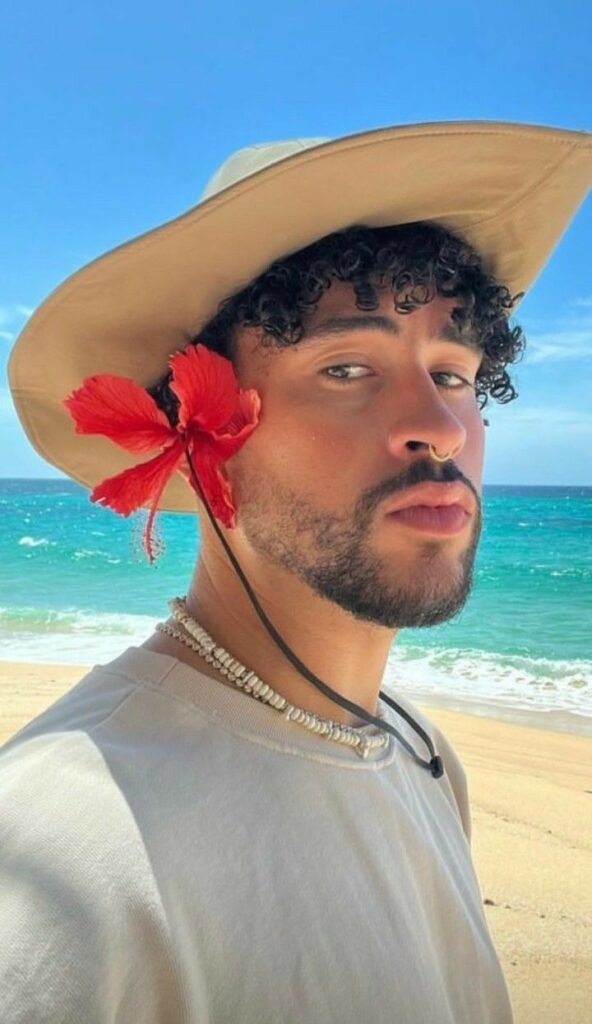 Wrestling Career:
He gave a live rendition of his song "Booker T" during the WWE's annual Royal Rumble on January 31, 2021, including the former wrestler of the same name. He started appearing on WWE's Monday Night Raw, a weekly television program.
On the February 15 episode of Raw, Bunny and fellow Puerto Rican wrestler Damian Priest teamed up to help Bunny defeat Akira Tozawa for the WWE 24/7 Championship. Bunny's 28-day reign ended on the March 15 episode of Raw when he gave the 24/7 Championship to R-Truth in return for memorabilia from Stone Cold Steve Austin.
In his first-ever in-ring wrestling bout, Bunny and Damian Priest defeated The Miz and John Morrison at WrestleMania 37. Bunny returned to WWE on January 29, 2022, participating in the men's Royal Rumble match. He made it all the way to the final five before being defeated by Brock Lesnar, who went on to win. He had already eliminated Sheamus and Dolph Ziggler.
Bunny will be the WWE 2K23 pre-order bonus; it was revealed on January 23, 2023. Bunny will host WWE's forthcoming premium live event, Backlash, which will take place in his native Puerto Rico, it was revealed on March 8, 2023.
Bad Bunny Parents and Siblings:
His parents Lysaurie Ocasio Declet and Benito Martnez, raised Bad Bunny. His mother, Lysaurie, is a schoolteacher, and his father, Martnez, is a truck driver. Along with his two younger brothers, Bernie Martínez Ocasio and Bysael Martínez Ocasio, Bad Bunny grew up in Vega Baja.
Bad Bunny Girlfriends:
He began dating Gabriela Berlingeri in 2017. He had a romantic relationship with Carliz de la Cruz for five years. He started dating Kendall Jenner at the beginning of 2023.
Instagram:
Bunny has been active on Instagram since December 2017. He has gathered over 244k followers in 30 posts. The man has made just 30 posts as of now, and most of them are videos. There is no information in his Instagram stories section. Moreover, he has also added a link to his YouTube channel.
TikTok:
The man has been active on TikTok for several years. He has over 31.2 million followers, 315.7 million likes, and a 16% Avg Engagement Rate. Bunny shares his lip-sync, dialogue, funny, entertaining, expression, musical, and lengthy short videos.
YouTube:
Bunny signed up for his YouTube channel on Jun 9, 2014. He has gathered over 45.6 million subscribers and 29,614,866,977 views. The man posts his official musical audio and video. He has uploaded over 128 videos as of now.
Social Media:
Associated With:
Baby Woo Wop is a famous American TikTok, YouTube, and social media influencer. His YouTube fame came from his appearances on the wildly popular DuB Family channel. He and his family have amassed enormous fame for their unique brand of vlogging, challenges, and practical jokes.
Net Worth:
Bad Bunny estimated net worth is about $40 Million. He generates revenue from his profession as a singer and rapper, YouTube, TikTok, brand endorsement, and collaborations.
Truth and Facts:
Bad Bunny is a native of Puerto Rico.
He is of Dominican and Puerto Rican descent.
The man started his career by singing in the church.
He's an actor and wrestler.
He Expresses Open Support for The LGBQ Community
FAQ
Why is Bad Bunny so popular?
He is a distinctive Latin brand fusing traditional Latin genres like salsa and merengue with hip-hop, rap, and Latin trap.
Did Bad Bunny get married?
No, he's not married yet.
How much does Bad Bunny make per concert?
According to a weekly list released by Pollstar, Bad Bunny can make up to $2.7 million for each performance.
Why is Bad Bunny called Bad Bunny?
The singer of Un Verano Sin Ti had previously hinted that the name was a throwback to his youth, telling E! News that the inspiration came from a bunny costume he was made to wear as a child. "I got the nickname 'Bad Bunny' from a picture I saw as a kid.
Is Bad Bunny in a relationship with Kendall Jenner?
When Bad Bunny and Kendall Jenner started dating in February, there was a flurry of excitement. Even after a few months, their relationship is still going strong.
Are Bad Bunny and his gf still together?
Yeah, Bunny and Kendall are still together.
Is BTS or Bad Bunny more famous?
The Bad Bunny generated more than 18.5 billion streams in 2022, making him the year's most-streamed artist globally for the third consecutive year. Taylor Swift, Drake, The Weeknd, and BTS come after the Puerto Rican performer in order.
How many awards has Bad Bunny won?
A rapper and singer from Puerto Rico, Bad Bunny, has received numerous awards over the years, including thirteen Premios Lo Nuestro, nine Latin Grammy Awards, eight Billboard Music Awards, an MTV Video Music Award, and three Grammys.
What is bad bunny real name?
Benito Antonio Martnez Ocasio