Short nails are becoming more and more common as basic beauty remains in style. But with so many different short nail styles to choose from, why choose a single-color manicure? The sky is the limit when we talk about gel manicure artistry. Gel nail art for short nails includes simple French manicures and more complex patterns like brushstroke nails.
Of course, getting a gel manicure has both advantages and disadvantages. Although the polish lasts considerably longer than a typical mani, if you fail to remove it properly, it could harm your natural nails.
Before going to the nail salon, you should gather design ideas if you're prepared to obtain a short nail gel manicure. Many different nail-art inspirations are available on Instagram, and many may be modified for short nails. Here are some of our favorite short nail art ideas for your upcoming manicure.
Gradient Nails:
Multiple colors are used on one manicure to create gradient nails. You use multiple colors as you can fit based on the length of your nails. Having at least two different hues blended together on the same nail is the only requirement for gradient nail art. Several alternative gradient styles are also available.
Horizontal: The hues alternate from side to side.
Vertical: From the cuticle line to the tip, the colors converge.
Diagonal: The hues merge at an angle from one side of the tip to the other side of the cuticle.
Radial: The colors are combined in a circle, leaving a single color in the nail's center. In a circular design, other colors converge outward. Because numerous coats must be applied precisely to keep the middle of the nail a solid shade, it is frequently regarded as the most challenging gradient to use.
Moreover, for gradient nails, some polishes work better than others. Mixing holographic flakes or glitter might be difficult when applying specialty polishes with a sponge, but gradient brushes are available to help.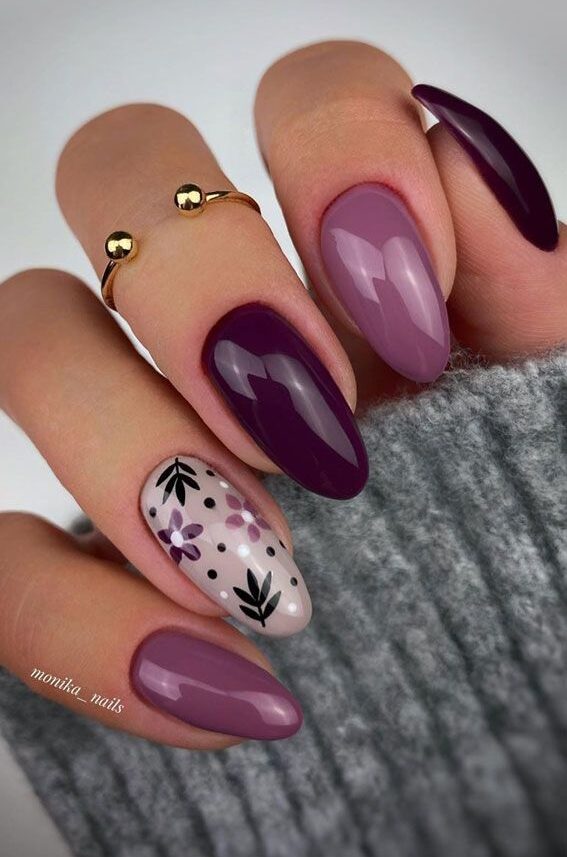 French Manicure:
A French manicure consists of a solid white tip on a nude, sheer, or pale pink lacquer. It can be applied as a manicure or pedicure on natural nails or acrylic alternatives. The nail's length is according to individual taste. However, in most conventional designs, the nail's tip will be shorter than its naked base.
Although French manicure tips are typically square, many more forms are available nowadays. The French manicure, a favorite of both professionals and fashionistas, complements any look while also making a stylish statement of its own.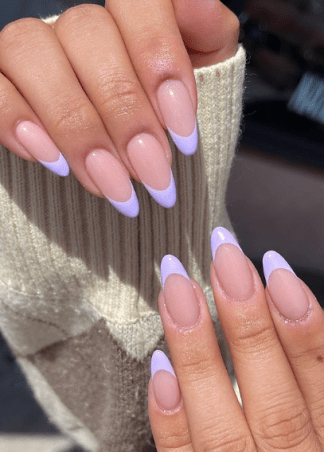 Leopard Print Nails:
Fun and one of the simplest "fancy" manicures to DIY are leopard-print nails. Since the painting is entirely freehand and the more uneven your leopard spots are, the better, you may do it quickly. You can create a rock tune with just three chords. You may create a leopard-print manicure with three different polish colors.
Pick colors you love; for a classic leopard pattern, go with a beige background, a tawny golden accent, and a dark brown or black outline. Alternately, use complementary colors like lavender, purple, and black or lime green, medium green, and black.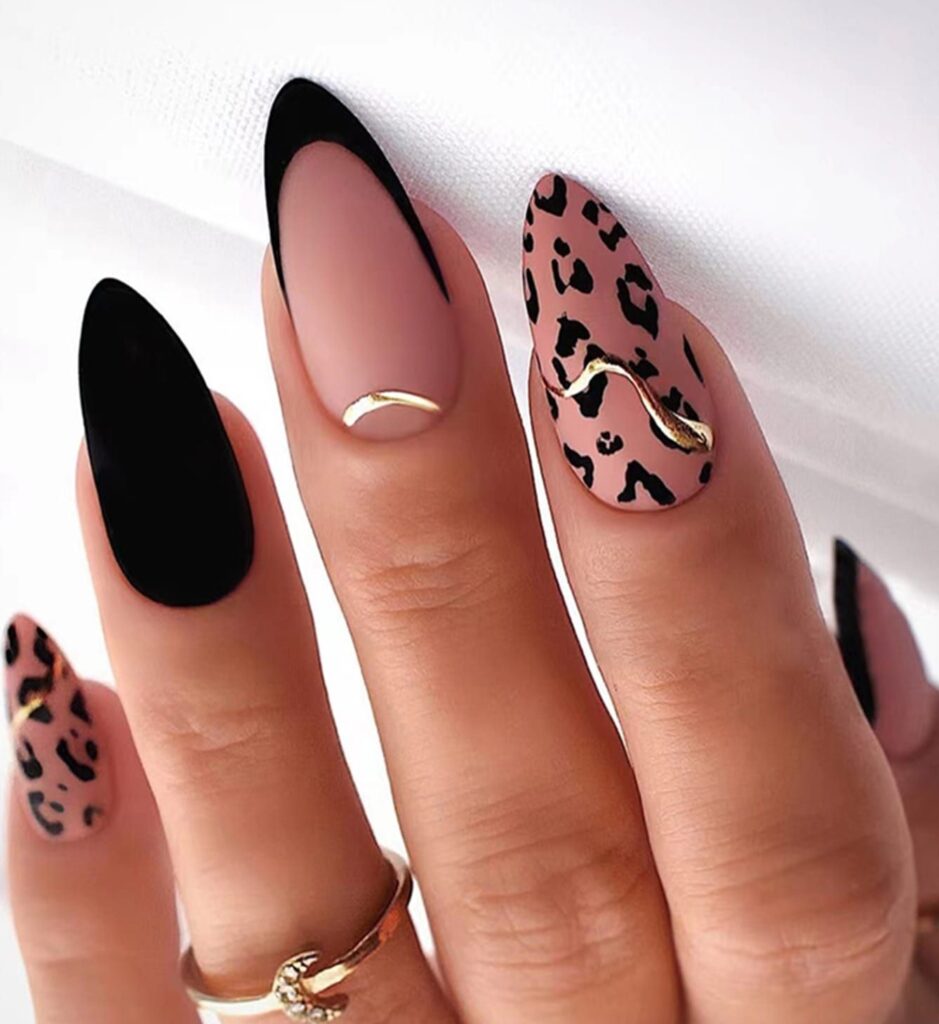 Skittle Nails:
Skittle nails, often known as Skittles manicures, are simply different colors applied to various nails. They can go with whatever you could be wearing! There are numerous ways to adopt this nail trend, just like there are multiple kinds of Skittles.
You can paint the entire nail, just the tip, or somewhere in between with everything from vibrant Ombre to neutral tones. If you're unsure where to begin, pick one of your favorite nail polish hues and select a few warmer and cooler hues. Just like a typical Midwest day!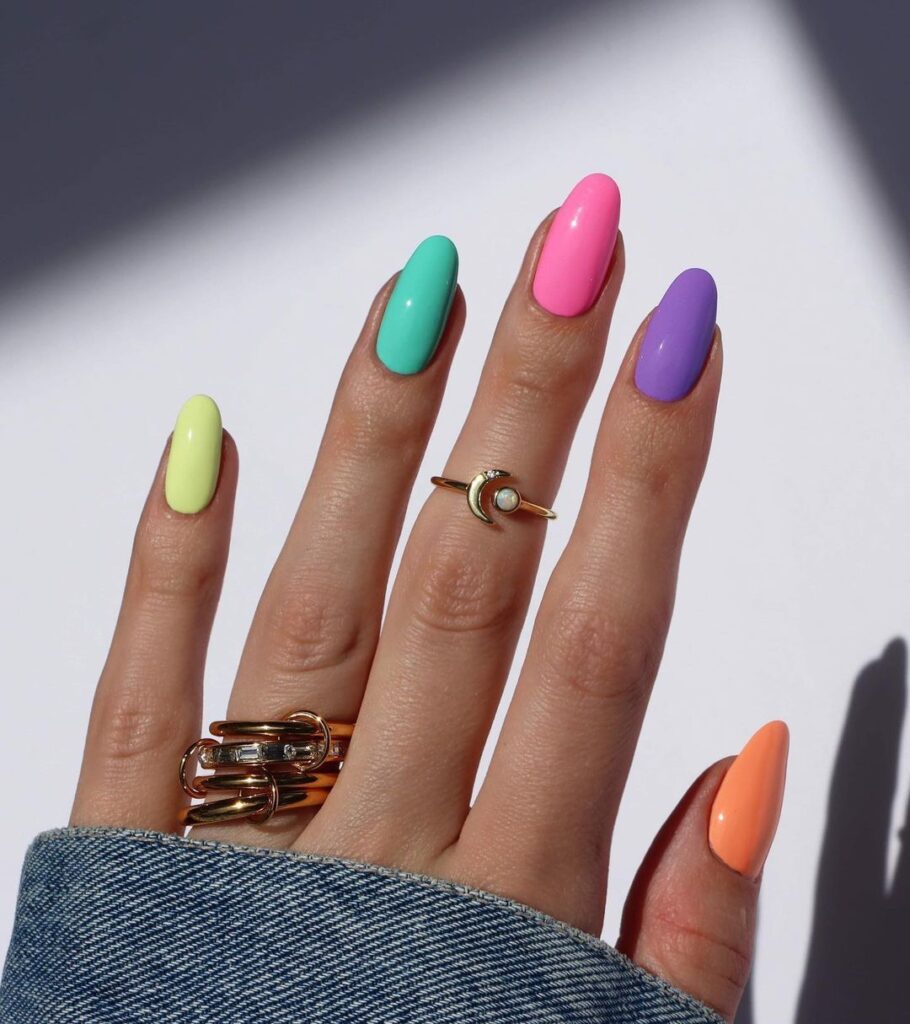 RELATED: THE ULTIMATE GUIDE TO SUMMER 2023 NAIL ART
Classic Red Nails:
Red is still considered a classic color, even though it is a brighter alternative. However, there are many red hues to pick from; some may be seen as more traditionally formal than others.
Nothing more needs to be said about this color other than the fact that it is timeless and exudes femininity, confidence, and all-around elegance. So you have the confidence that red nail polish is always appropriate, no matter what you wear.
Although it is brighter, the traditional red can still be formal in a work setting. It looks elegant while still being rather dynamic and exciting and goes well with most clothing colors. For the office, a darker shade of red is a fantastic, understated choice. Nearly every skin tone looks beautiful and attractive in maroon hues.
Negative Space Half Moons Nails:
Nail art is becoming a little simpler without compromising style or, more importantly, a nail file-ready finish. And now, half-moon nail art with negative space is unavoidable.
Half-moon nail art, which uses color to highlight the lunula, or lighter, half-moon form at the base of each nail, is not a particularly novel appearance. Though tiny homes and a minimalist lifestyle are becoming increasingly popular, it has also influenced our beauty regimens. Currently, the most well-liked type of half-moon nail art is the sort that leaves a portion of the natural nail bed exposed beneath fine lines, delicate dots, or nothing at all.
Unsurprisingly, Instagram makes it very clear that there are countless ways to put your own twist on negative space half-moon nail art, though a few care-related tips come in handy for everyone.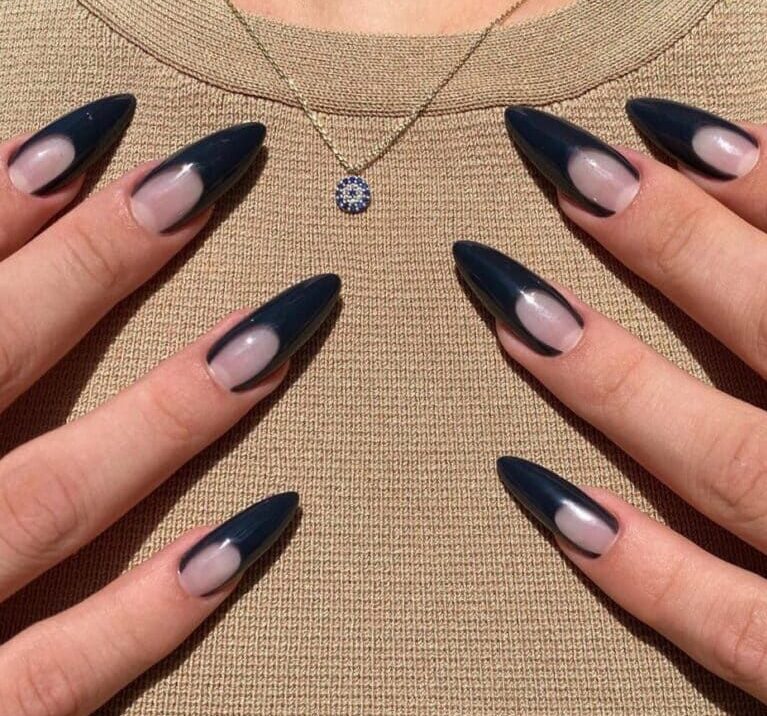 Velvet Nails:
"Velvet nails are the result of a particular kind of polish formula that creates a three-dimensional, shimmery velvet appearance," says Haile. "It's accomplished by using a special polish and magnet to control the movement of the 'velvet' sparkles."
To achieve the look, apply a base coat (the color will depend on the outcome you're going for) and then add a layer of magnetic nail polish on top. You use a small (but potent) magnet to fluff up the texture before the polish dries.
A small magnet and a gel substance called cat eye gel are used to make velvet nails. Cat-eye gels come in a wide variety of brands; some require the application of a black base coat before the cat-eye, while others only require one step.