Nail appointments are again being scheduled, and going to the salon is now safer than ever. You must be eager to have a nail technician finally give tips on the exciting summer nail art designs you've been saving on Instagram.
We have the looks for you that are just as eager to re-enter the world as you are, just in case you're not entirely sure what you want. Three brilliant nail artists were tasked with coming up with three different interpretations of the summer nail art trends of swirls, 3D jelly, and '90s vibes.
Swirly Tips:
It's for you, this one. Before jumping on to the big leagues, you may easily practice your technique thanks to the straightforward swirls of this design. Always start by applying a base coat. According to Nuez, "It encourages adhesion and inhibits yellowing."
Then, using your bottle brush, outline the color you want to use by circling the edge of your nail. Fill in as necessary, add another coat for full coverage, and then apply a top coat. Pour a small amount of your polish onto a temporary palette, such as a piece of aluminum foil, to get started if you're using a detail brush.
To remove any debris, clean your brush with nail polish remover before dipping it into the polish. This will keep the tip pointed. Draw a thin, wavy lineup on your nail bed to shape the color where you want it to go. After that, use your bottle brush to fill it in again.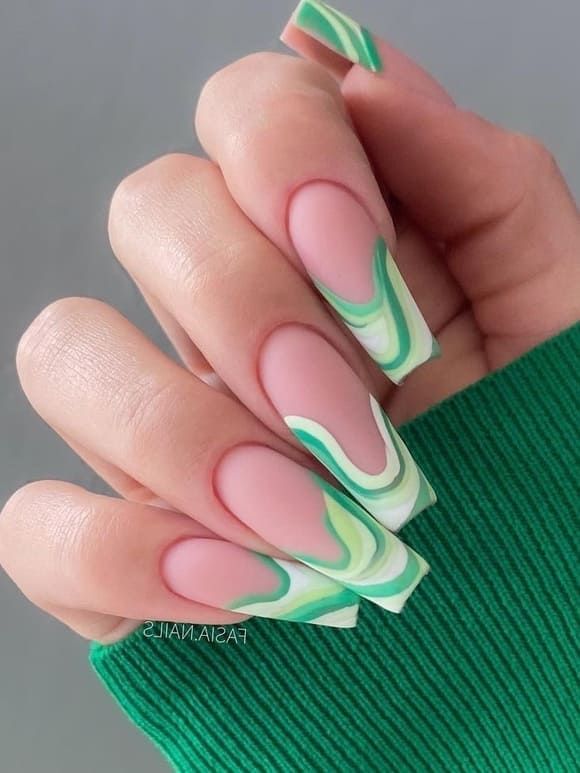 Sunset Half Moons:
Short nails look excellent with this sophisticated style. The expert advises getting a detail brush for this one because you'll need it. Start with a base coat, as you would have predicted.
Then, paint a half moon at your cuticle with your detail brush. Use your clean-up brush to make any necessary adjustments to the design after letting it dry before tracing the outline with a different color. Create a striking French tip with the pointed end of your bottle brush, then apply a topcoat. Pat yourself on the back after the paint has dried: you did a great job.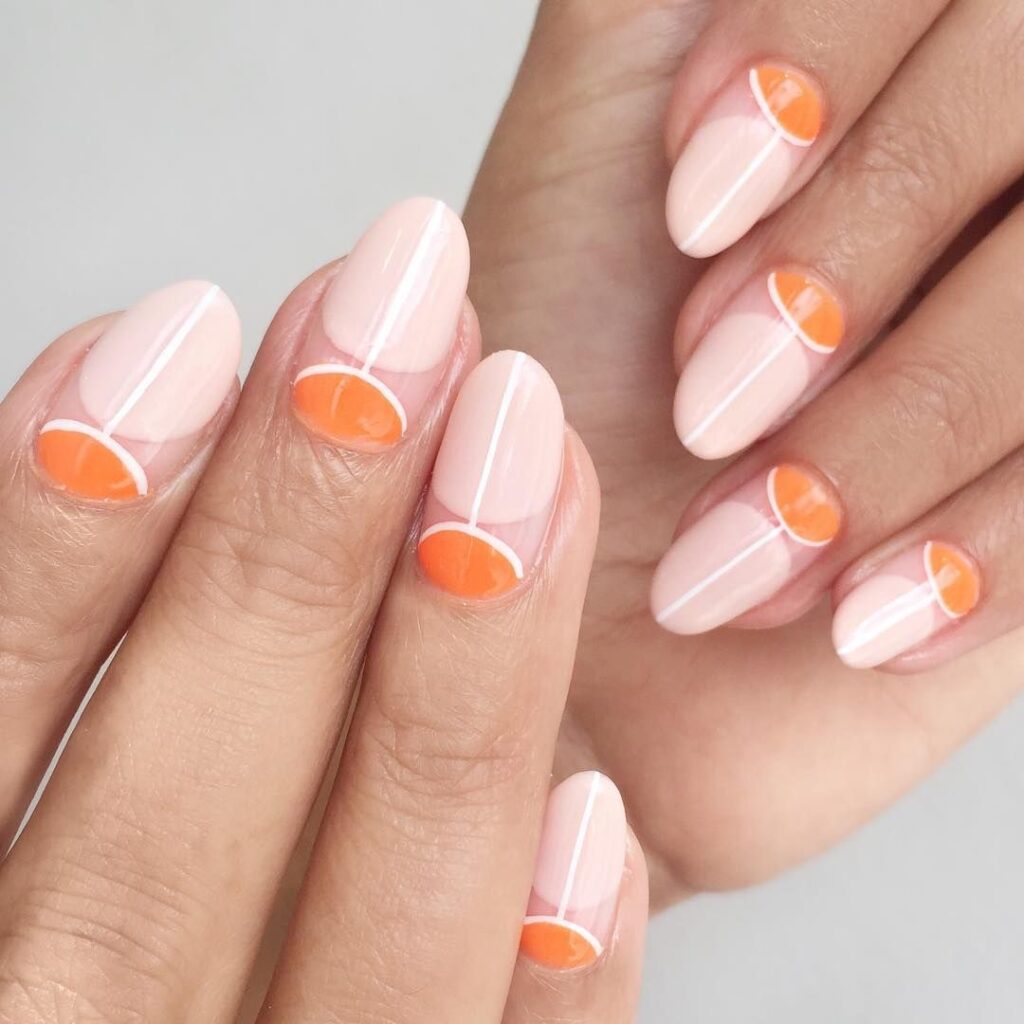 Multi-Colored French Tips:
This look is twice as challenging as exciting because you are layering different hues over a French tip. Before putting another color on top of an earlier layer, Nuez advises waiting until it has dried completely.
Put on your base coat first. Then, paint a side swoosh over your nail using the corner of the bottle brush to create a French tip (such as the light green and pink base hues). For coverage, repeat. After it has dried, apply your extra shades over the base color with the detail brush before applying a topcoat.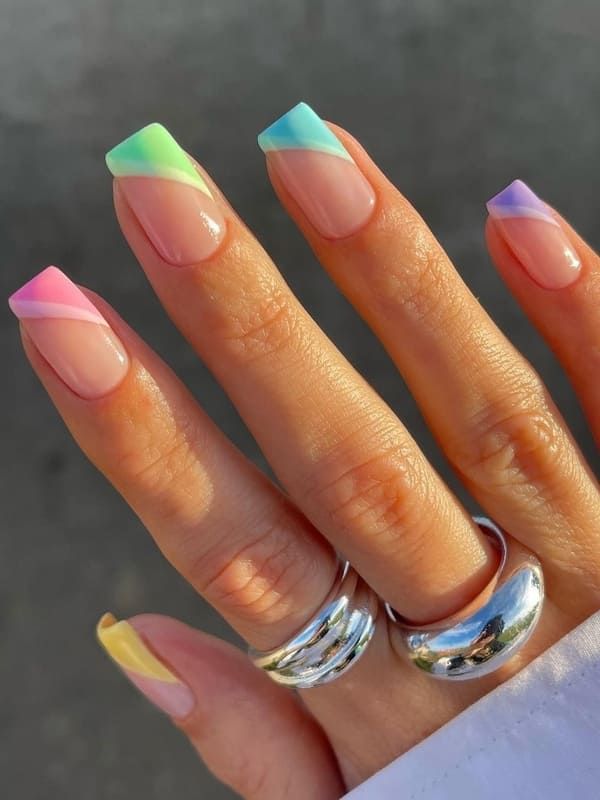 Psychedelic Tips:
Although it could be challenging to reproduce Psychedelic Tips at home, it can be beneficial and the creative endeavor you need to break up your routine. Do you remember when water marbling was the current nail fad years ago? The method of soaking your nails in nail polish solution took over the internet & manicurists worldwide. It's back now, and doing it at home has never seemed so simple—or exhilarating.
However, psychedelic nail art can also be found in other forms. Some people have limited the bold print to only the nail tips, creating a beautiful arc. Others prefer maintaining the design's millimetric detail to create a more original pattern.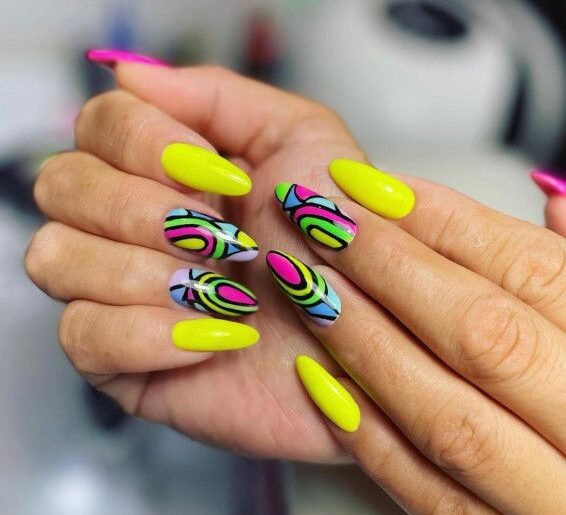 Emoji Nail Art:
Emoji nail art, which can best be defined as their current addiction, is created by young people addicted to social media. Yellow, black, white, red, and blue nail paint are all required.
Dotting pens and nail art brushes are among the tools that can be used. Starting with tiny dots rather than lines will make connecting them much simpler and help reduce errors in the design. If drawing isn't your biting suit, you can purchase decals and nail art online to correctly interpret complex Yemojis like the dancing girl.
Emoji nails are entertaining and may depict any emotion. Emojis are primarily made up of one-stroke lines and dots, making it easy to follow the pattern, even though drawing them may look difficult, according to manicure expert Neela Bopaiah.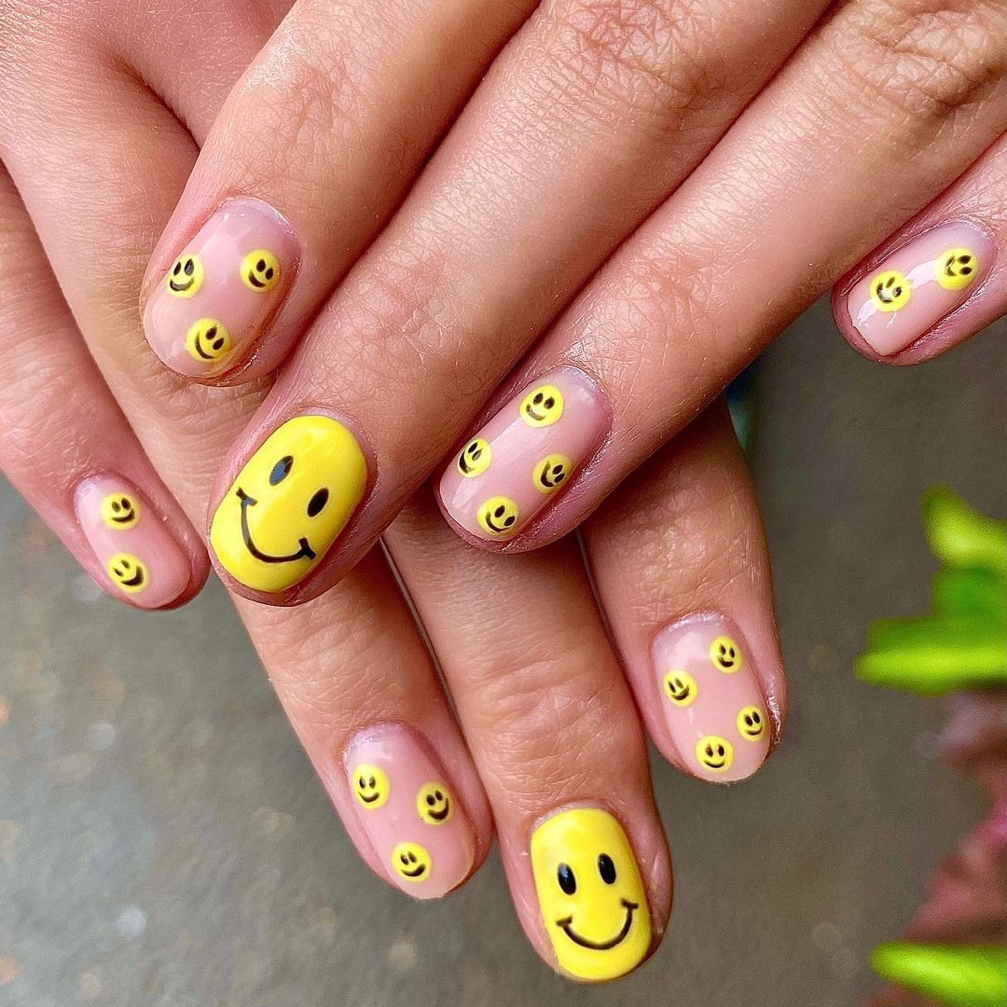 Fruit Nails:
Such a sweet summer trend is fruit-themed manicures. The ideal nail art may be created in so many different ways. You can either stick with the traditional cherry or strawberry look or try something novel like papaya.
This summer, jelly nail art has been prevalent, giving our fingers a finish that mixes stained glass windows and nostalgic squishy sandals. They have a nostalgic allure that we find irresistible, but the most recent concept to appear on our feeds may be even better. Enter fruit nails, which are glossy, enjoyable, and eye-catching (much like jelly nails).
You can either choose bolder neon colors that feature larger fruits and patterns with a natural base and minuscule decorations.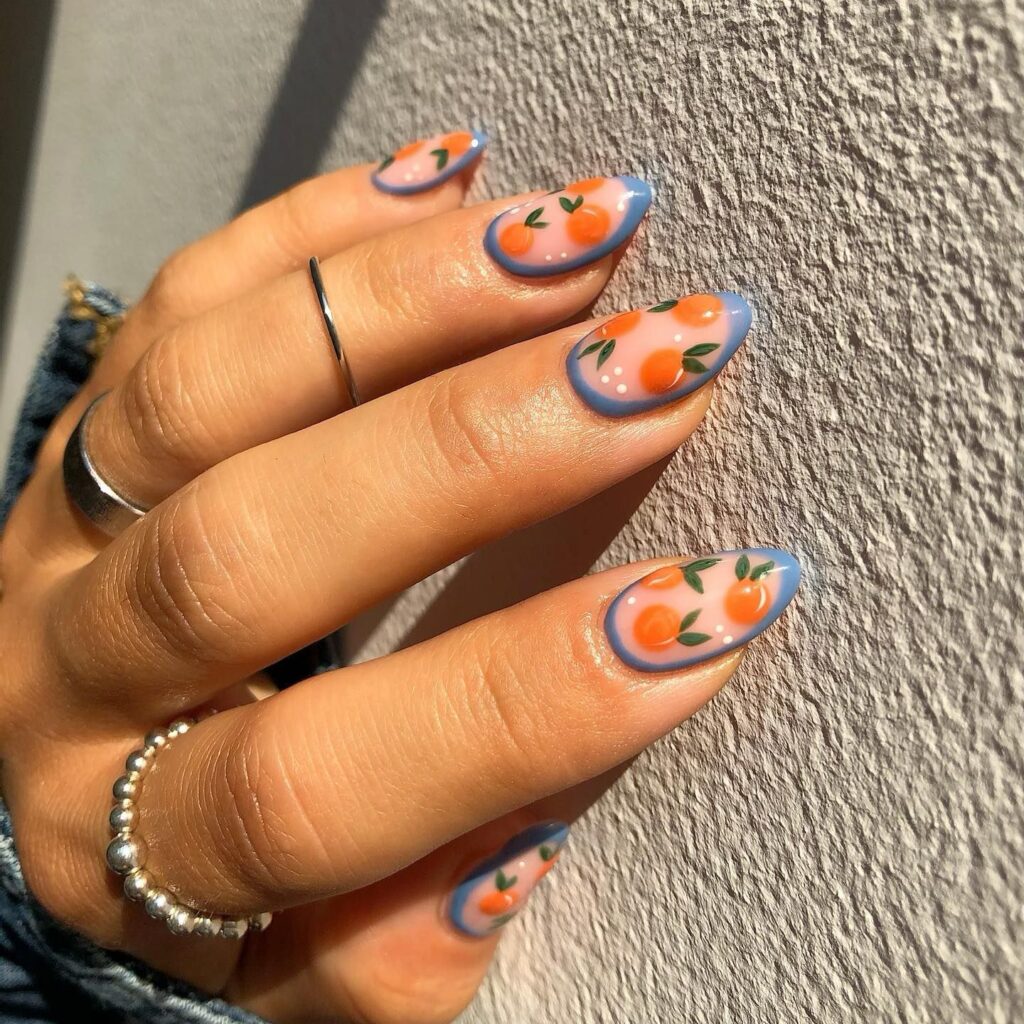 Citrus Nail Art:
What better way to take advantage of this enjoyable time than with some pretty summer nail art? Consider sporting fruit nails this summer, preferably citrus. If you adore citrus fruits like oranges, mandarins, or even lemons, then by all means, paint them on your nails this summer.
As the fruits create really gorgeous designs, your summer citrus nails don't need any accessorizing. However, if you'd want to, you can bedazzle them with some rhinestones.