There are many single-use gadgets and life-changing appliances on the market these days that appear to be poised to change how we cook. There are microwaveable popcorn poppers for quick snacks, expensive smart toasters for perfectly browned bagels and waffles, and handy reusable storage bags for keeping leftovers fresh—and that's just scratching the surface.
While these gadgets certainly make a difference in the kitchen (and are arguably quite entertaining), there are other, more pressing products that you may eventually rely on and use more frequently. If these are what you're looking for, Amazon has many essential tools, appliances, knives, and cookware that will fundamentally change your cooking. The Checkered Chef Cooling Racks, one of our favorites, come in two small, versatile units, making them more valuable than a single large version. Please continue reading for more of our top picks under $25.
These are detailed explanations of some quality products under $25.
1. Personal Microwave Silicone Popcorn Popper Maker By W&P: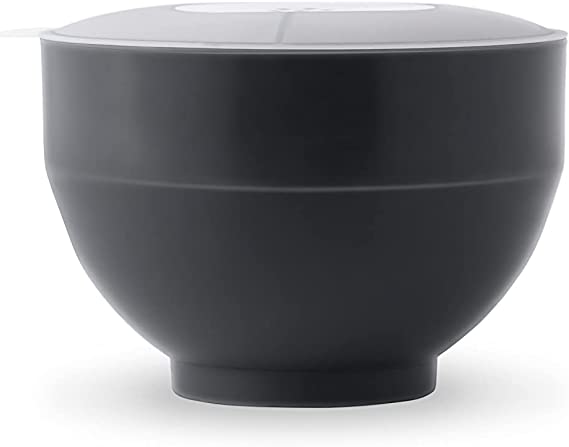 The Personal Popper produces up to 4 cups of fluffy popcorn, the same amount as a standard microwaveable bag, but at a fraction of the cost! The personal popper is waste-free, as this collapsible popcorn bowl provides microwave popcorn satisfaction in an eco-friendly, waste-free format. It has a collapsible design and requires no tools to assemble. To measure kernels for a perfect serving of popcorn, flip the lid, which also serves as a measuring cup. It is made of LFGB-certified silicone, which exceeds FDA food safety standards.
---
2. Hamilton Beach 2 Slice Toaster: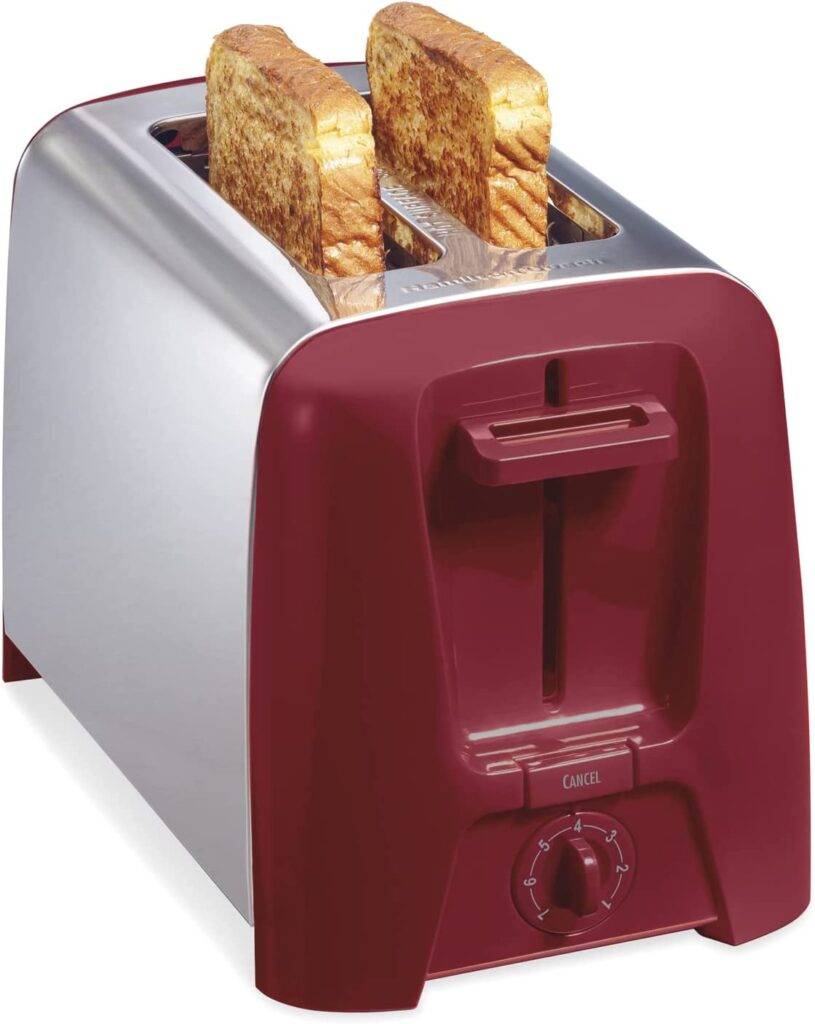 It is ideal for toasting your favorite thick-cut bread or bagel because it has extra-wide slots. With the handy toast shade selector, you can make your toast exactly how you like. The auto-shutoff feature and cancel button give you peace of mind during your hectic mornings. Multitask without having to worry about bread or bagels burning in the toaster. Its cord storage keeps your toaster plug up and out of the way, allowing for safe and easy cleanup and a clear counter. When your toasted bread and bagels are ready, it raises them to make them easier to retrieve. Furthermore, the material is nonstick.
---
3. Cuisinart C55-12PCKSAM Ceramic-Coated Stainless Steel Knives, Set of 12: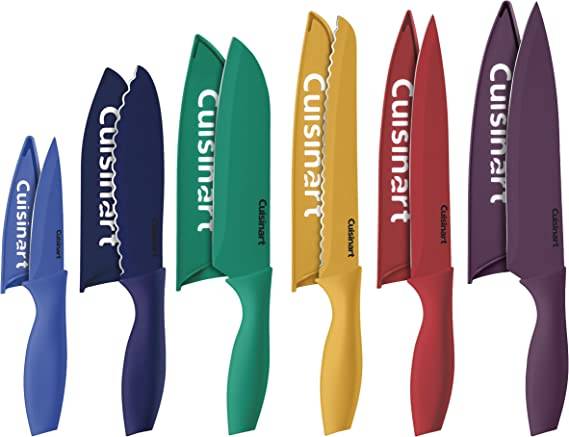 These knives have six blades and are made of high-quality stainless steel. The blades are incredibly sharp and come in various colors representing each knife in the set. Under everyday home use, these are warranted to be free of defects in material and quality. Their nonstick ceramic coating makes slicing food easier and keeps the blades sharp. The set comes with an 8-inch chef knife, an 8-inch slicing knife, an 8-inch serrated bread knife, a 7-inch Santorum knife, a 6.5-inch utility knife, and a 3.5-inch paring knife.
---
4. Glad 7-Piece Kitchen Utensil Set – Nylon Tools: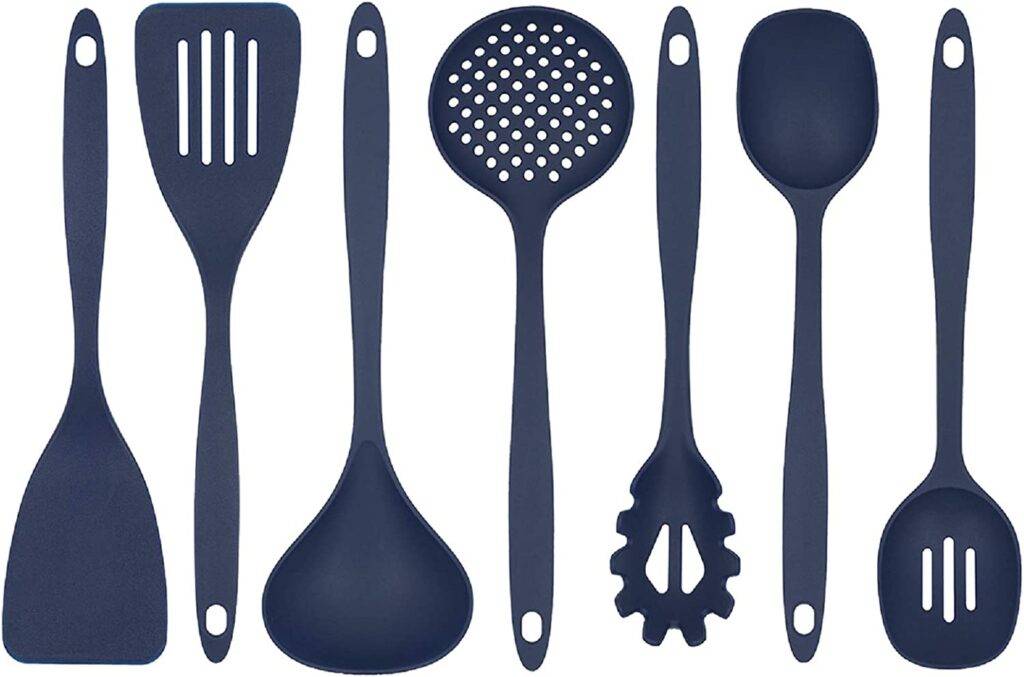 This 7-piece value set consists of a slotted turner, spoon, slotted spoon, ladle, skimmer, turner, and spaghetti server—everything you need to prepare a delicious meal! These cooking utensils are durable and have a nylon coating. They are gentle enough to use with nonstick cookware. These sturdy kitchen tools are strong enough to stir whatever you cook or bake with and are ideal for scraping those hard-to-reach corners. These utensils have high heat resistance, e.g., 410 °F (210 °C), and are available in a solid blue color. Furthermore, these utensils are top-rack dishwasher safe.
---
5. Amazon Basics 20-Piece Satin Matte Stainless Steel Kitchenware Set: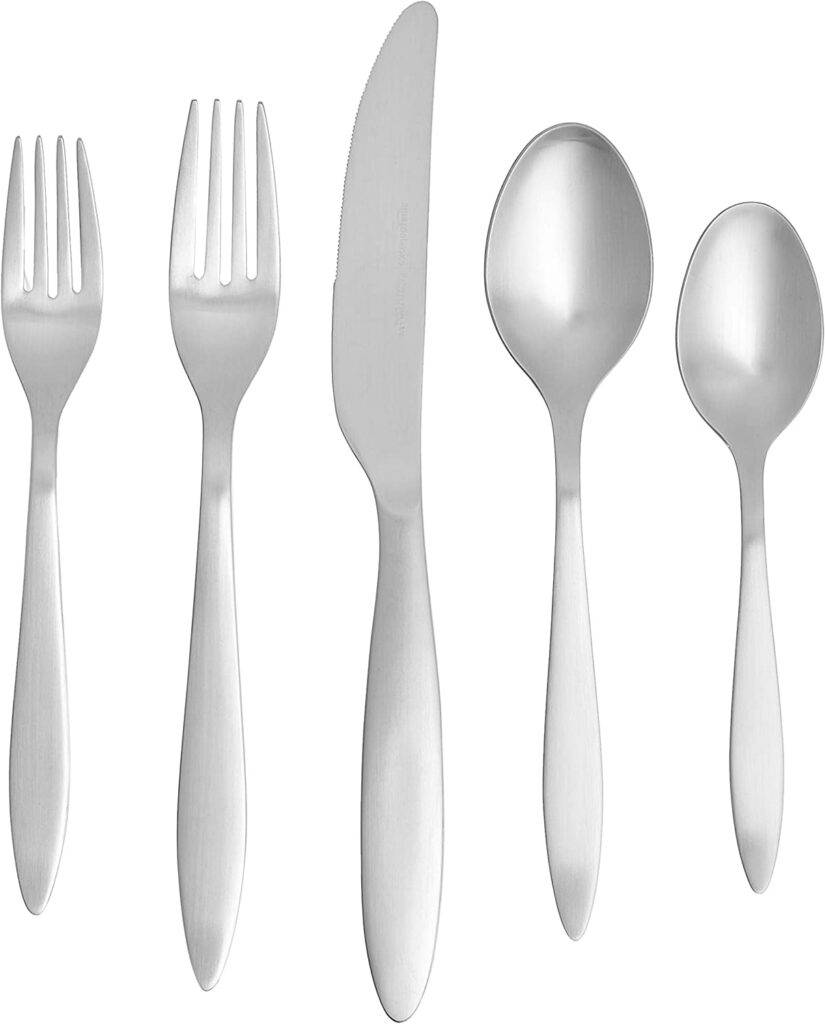 It is a 20-piece stainless steel flatware set suitable for everyday use and special occasions. The pack contains four salad forks, four dinner forks, four place knives, four soup spoons, and four teaspoons. It has a good weight distribution and does not feel too light or too heavy in hand. In addition, the set has an elegant design with a silver satin matte finish. It is perfect for stylish holidays, parties, or get-together entertaining. It is also recommended to clean flatware within 2 hours, not leave lemon or jam on the surface, and not soak the silver in water for an extended period.
---
6. GIR Premium Stainless Steel Whisk:

Twelve hardened steel wires (rather than the standard 8-10) are inserted under high tension in this whisk for maximum vibration and efficiency. The cables and handle are counterweighted. Additionally, you can avoid the messy moment when a heavy handle flips the whisk out of the bowl. The wires are spaced and distributed for optimal aeration and whisking at any angle. Whisk's handle shape accommodated all grip styles and was ergonomically designed. It has been designed to last a lifetime in your kitchen and to withstand the rigorous demands of both home cooks and professional chefs.
---
7. Classic Plastic Shot Glass Measurer by Chef Craft: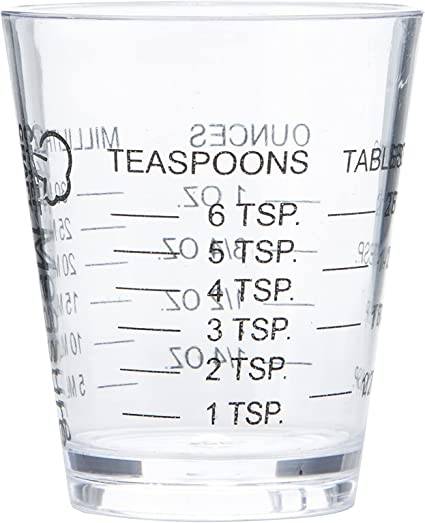 It measures in teaspoons, milliliters, and tablespoons up to one ounce. It works well for estimating drink amounts. In baking, the glass can use in place of a teaspoon. It's made of transparent plastic. Additionally, it has a top-rack dishwasher safe.
---
8. Tovolo 47005-200 Large Collapsible Microwave with Reheating Lid and Meal Prep Tool: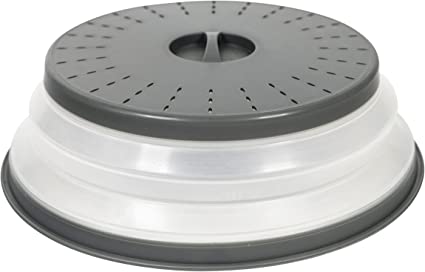 It is made of highly heat-resistant plastic, is dishwasher safe, and can even be placed beneath plates in the microwave, allowing you to remove your meal when it is time to eat safely. When not in use, the cover of this large plate and bowl can be collapsed for easy storage, freeing up space in your cabinets for other kitchen tools, dishes, or gadgets. Its vented lid allows steam to escape as your food cooks, making it a safer and more cost-effective alternative to plastic wrap. With this cover, you can be sure that your microwave will stay clean, as the lid protects your appliance from messy food splatters or spills, making meal preparation easier.
---
9. Holstein Housewares – Black/Stainless Steel Nonstick Omelet & Frittata Maker: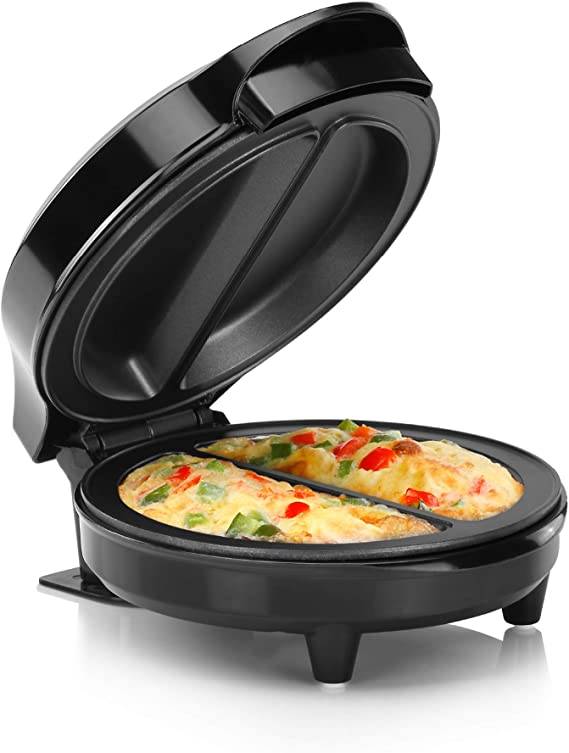 You can make two fluffy omelets from this device in just a few minutes. This versatile appliance can make frittatas, pizza pockets, apple turnovers, and other dishes.
To accommodate everyone's breakfast, lunch, or dinner requests, you can prepare two customized individual portions at a time. Its nonstick-coated cooking surfaces do cooking and cleaning a breeze. No more messed-up flipping or dirty frypans; insert your ingredients, close the lid, and go. The compact, space-saving design takes up less space on your countertop. The colorful and sleek stainless-steel finish adds a lovely color to your kitchen decor.
---
10. DASH Rapid Egg Cooker: Electric Egg Cooker with 6 Egg Capacity for Poached Eggs, Scrambled Eggs, Boiled Eggs, or Omelets: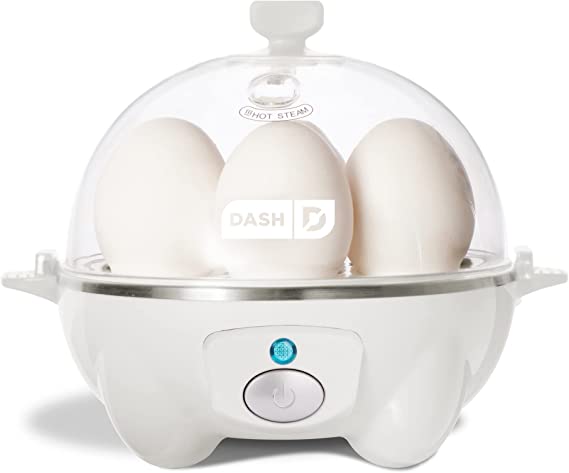 Dash Rapid Egg Cooker is the most trusted egg cooker, delivering perfect eggs every time. It can cook up to six eggs—soft, medium, or complicated—while saving time and water. Eggs are consistently excellent, with easy-to-peel shells and easy cleanup.
This egg cooker is ideal for picky eaters, large families, or people with hectic schedules. Hard-boiled eggs, soft-boiled eggs, poached eggs, scrambled eggs, and individual omelets are all ready in minutes. The Dash Rapid Egg Cooker, weighing just 1 lb, is best to take during traveling. Furthermore, its sleek design and trendy color options complement any kitchen space. Dash Rapid Egg Cooker comes with a poaching tray, omelet tray, six egg holder trays, measuring cup, recipe book, and access to a recipe database (all non-electric parts are dishwasher safe).
---